1563 CICERO De Officii Libri III Philosophy Rhetoric Politics Greco-Roman LAW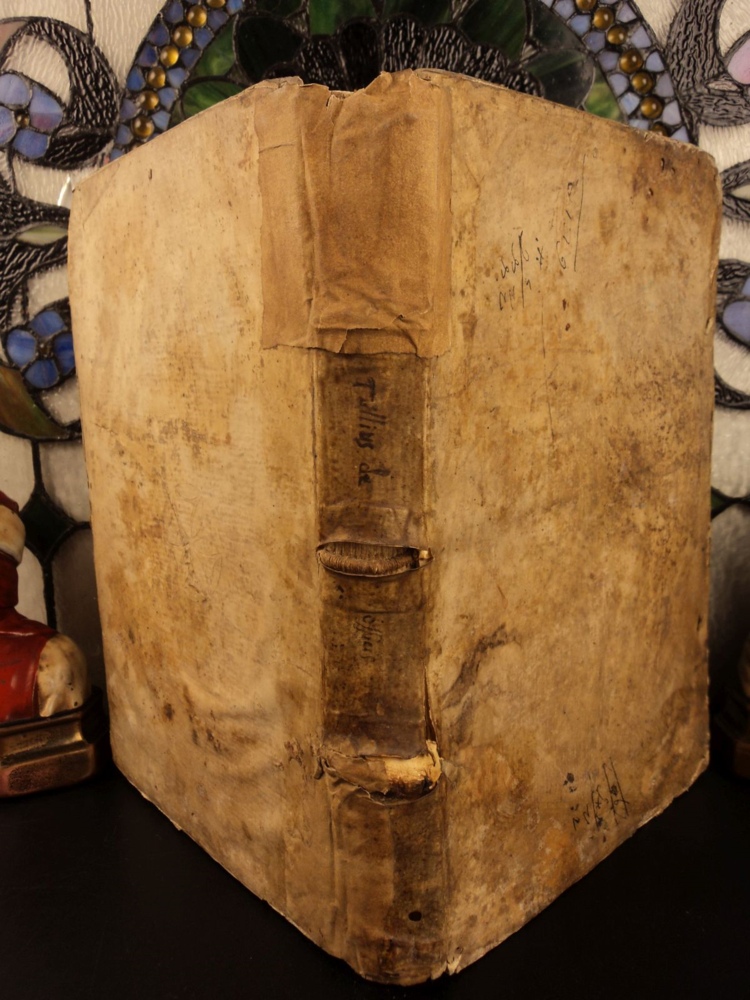 $675.00
Free shipping wordwide!
---
Satisfaction Guaranteed
Marcus Tullius Cicero (106 BC – 43 BC) was a Roman philosopher, politician, lawyer, orator, political theorist, consul and constitutionalist. He came from a wealthy municipal family of the Roman equestrian order, and is widely considered one of Rome's greatest orators and prose stylists.
We find other 16th-century examples of this same title for sale elsewhere for $1,700!
$675.00
Free shipping wordwide!
---
Satisfaction Guaranteed
Image Gallery
Description & Details
1563 CICERO De Officii Libri III Philosophy Rhetoric Politics Greco-Roman LAW
LARGE FOLIO Vellum Binding / Excellent Contents
Marcus Tullius Cicero (106 BC – 43 BC) was a Roman philosopher, politician, lawyer, orator, political theorist, consul and constitutionalist. He came from a wealthy municipal family of the Roman equestrian order, and is widely considered one of Rome's greatest orators and prose stylists.
We find other 16th-century examples of this same title for sale elsewhere for $1,700!
Main author: Marcus Tullius Cicero; Mario Nizzoli; Pietro Marso; Francesco Maturanzio; Ognibene, da Lonigo
Title: Ciceronis de officiis libri III ; Cato maior, vel de senectute ; Laelius, vel de amicitia ; Paradoxa Stoicorum sex ; Cum Petri Marsi, Francisci Maturantii, Omniboni, Martini Philetici, & Ascensii, in haec omnia praestantissimis commentariis ….
Published: Venetiis : Apud Ioannem Mariam Bonellum, 1563.
Language: Latin
Notes & contents:
Charming printer's device on title page
FREE SHIPPING WORLDWIDE
Wear: wear as seen in photos
Binding: tight and secure vellum binding
Pages: complete with all 221 leaves (442 pages according to modern pagination); plus, indexes, prefaces, and such
Publisher: Venetiis : Apud Ioannem Mariam Bonellum, 1563.
Size: ~12in X 8in (30.5cm x 20cm)
FREE SHIPPING WORLDWIDE
Shipping:
Very Fast. Very Safe. Free Shipping Worldwide.
Satisfaction Guarantee:
Customer satisfaction is our first priority. Notify us within 7 days of receiving your item and we will offer a full refund guarantee without reservation.
$750
Marcus Tullius Cicero[n 1] (/ˈsɪsᵻroʊ/; Classical Latin: [ˈmaːr.kʊs ˈtʊl.li.ʊs ˈkɪ.kɛ.roː]; Greek: Κικέρων, Kikerōn; 3 January 106 BC – 7 December 43 BC) was a Roman philosopher, politician, lawyer, orator, political theorist, consul, and constitutionalist. He came from a wealthy municipal family of the Roman equestrian order, and is widely considered one of Rome's greatest orators and prose stylists.[2][3]
His influence on the Latin language was so immense that the subsequent history of prose in not only Latin but European languages up to the 19th century was said to be either a reaction against or a return to his style.[4] According to Michael Grant, "the influence of Cicero upon the history of European literature and ideas greatly exceeds that of any other prose writer in any language".[5] Cicero introduced the Romans to the chief schools of Greek philosophy and created a Latin philosophical vocabulary (with neologisms such as evidentia,[6] humanitas, qualitas, quantitas, and essentia)[7] distinguishing himself as a linguist, translator, and philosopher.
Petrarch's rediscovery of Cicero's letters is often credited for initiating the 14th-century Renaissance in public affairs, humanism, and classical Roman culture.[8] According to Polish historian Tadeusz Zieliński, "Renaissance was above all things a revival of Cicero, and only after him and through him of the rest of Classical antiquity."[9] The peak of Cicero's authority and prestige came during the 18th-century Enlightenment,[10] and his impact on leading Enlightenment thinkers such as John Locke, David Hume, and Montesquieu was substantial.[11] His works rank among the most influential in European culture, and today still constitute one of the most important bodies of primary material for the writing and revision of Roman history, especially the last days of the Roman Republic.[12]
Though he was an accomplished orator and successful lawyer, Cicero believed his political career was his most important achievement. It was during his consulship that the Second Catilinarian Conspiracy attempted to overthrow the government through an attack on the city by outside forces, and Cicero suppressed the revolt by executing five conspirators without due process. During the chaotic latter half of the 1st century BC marked by civil wars and the dictatorship of Gaius Julius Caesar, Cicero championed a return to the traditional republican government. Following Julius Caesar's death Cicero became an enemy of Mark Antony in the ensuing power struggle, attacking him in a series of speeches. He was proscribed as an enemy of the state by the Second Triumvirate and consequently executed by soldiers operating on their behalf in 43 BC after having been intercepted during attempted flight from the Italian peninsula. His severed hands and head were then, as a final revenge of Mark Antony, displayed in the Roman Forum.
Contents  [hide]
1          Personal life
1.1       Early life
1.2       Family
2          Public career
2.1       Early political career
2.2       Consul
2.3       Exile and return
2.4       Julius Caesar's civil war
2.5       Opposition to Mark Antony and death
3          Legacy
4          Works
4.1       Speeches
4.2       Treatises
4.3       Letters
5          Notable fictional portrayals
6          See also
7          Notes
8          References
8.1       Citations
8.2       Bibliography
9          Further reading
10        External links
Personal life[edit]
Main article: Personal life of Marcus Tullius Cicero
Early life[edit]
Cicero was born in 106 BC in Arpinum, a hill town 100 kilometers (62 mi) southeast of Rome. His father was a well-to-do member of the equestrian order and possessed good connections in Rome. However, being a semi-invalid, he could not enter public life and studied extensively to compensate. Although little is known about Cicero's mother, Helvia, it was common for the wives of important Roman citizens to be responsible for the management of the household. Cicero's brother Quintus wrote in a letter that she was a thrifty housewife.[13]
Cicero's cognomen, or personal surname, comes from the Latin for chickpea, cicer. Plutarch explains that the name was originally given to one of Cicero's ancestors who had a cleft in the tip of his nose resembling a chickpea. However, it is more likely that Cicero's ancestors prospered through the cultivation and sale of chickpeas.[14] Romans often chose down-to-earth personal surnames: the famous family names of Fabius, Lentulus, and Piso come from the Latin names of beans, lentils, and peas. Plutarch writes that Cicero was urged to change this deprecatory name when he entered politics, but refused, saying that he would make Cicero more glorious than Scaurus ("Swollen-ankled") and Catulus ("Puppy").[15]
The Young Cicero Reading by Vincenzo Foppa (fresco, 1464), now at the Wallace Collection
During this period in Roman history, to be considered "cultured" meant being able to speak both Latin and Greek. Cicero was therefore educated in the teachings of the ancient Greek philosophers, poets and historians; he obtained much of his understanding of the theory and practice of rhetoric from the Greek poet Archias.[16] Cicero used his knowledge of Greek to translate many of the theoretical concepts of Greek philosophy into Latin, thus translating Greek philosophical works for a larger audience. It was precisely his broad education that tied him to the traditional Roman elite.[17]
According to Plutarch, Cicero was an extremely talented student, whose learning attracted attention from all over Rome,[18] affording him the opportunity to study Roman law under Quintus Mucius Scaevola.[19] Cicero's fellow students were Gaius Marius Minor, Servius Sulpicius Rufus (who became a famous lawyer, one of the few whom Cicero considered superior to himself in legal matters), and Titus Pomponius. The latter two became Cicero's friends for life, and Pomponius (who later received the nickname "Atticus", and whose sister married Cicero's brother) would become, in Cicero's own words, "as a second brother", with both maintaining a lifelong correspondence.[20]
Cicero wanted to pursue a public career in politics along the steps of the Cursus honorum. In 90 BC–88 BC, he served both Gnaeus Pompeius Strabo and Lucius Cornelius Sulla as they campaigned in the Social War, though he had no taste for military life, being an intellectual first and foremost. Cicero started his career as a lawyer around 83–81 BC. His first major case, of which a written record is still extant, was his 80 BC defense of Sextus Roscius on the charge of patricide.[21] Taking this case was a courageous move for Cicero; patricide was considered an appalling crime, and the people whom Cicero accused of the murder, the most notorious being Chrysogonus, were favorites of Sulla. At this time it would have been easy for Sulla to have the unknown Cicero murdered. Cicero's defense was an indirect challenge to the dictator Sulla, and on the strength of his case, Roscius was acquitted.[22]
Cicero's case was divided into three parts. The first part detailed exactly the charge brought by Ericius. Cicero explained how a rustic son of a farmer, who lives off the pleasures of his own land, would not have gained anything from committing patricide because he would have eventually inherited his father's land anyway. The second part concerned the boldness and greed of two of the accusers, Magnus and Capito. Cicero told the jury that they were the more likely perpetrators of murder because the two were greedy, both for conspiring together against a fellow kinsman and Magnus, for his boldness and for being unashamed to appear in court to support the false charges. The third part explained that Chrysogonus had immense political power, and the accusation was successfully made due to that power. Even though Chrysogonus may not have been what Cicero said he was, through rhetoric, Cicero successfully made him appear to be a foreign freed man who was devious enough to take advantage of the aftermath of the civil war, and to prosper. Cicero surmised that it showed what kind of a person he was and that something like murder was not beneath him.[23]
In 79 BC, Cicero left for Greece, Asia Minor and Rhodes, perhaps because of the potential wrath of Sulla.[24] Charting a middle path between the competing Attic and Asiatic styles, he would ultimately become considered second only to Demosthenes among history's orators.[25]
Cicero's interest in philosophy figured heavily in his later career and led to him providing a comprehensive account of Greek philosophy for a Roman audience,[26] including creating a philosophical vocabulary in Latin.[27] In 87 BC, Philo of Larissa, the head of the Academy that was founded by Plato in Athens about 300 years earlier, arrived in Rome. Cicero, "inspired by an extraordinary zeal for philosophy",[28] sat enthusiastically at his feet and absorbed Plato's philosophy. Cicero said of Plato's Dialogues, that if Zeus were to speak, he would use their language.[29]
Family[edit]
Marcus Tullius Cicero
Cicero married Terentia probably at the age of 27, in 79 BC. According to the upper class mores of the day it was a marriage of convenience, but endured harmoniously for some 30 years. Terentia's family was wealthy, probably the plebeian noble house of Terenti Varrones, thus meeting the needs of Cicero's political ambitions in both economic and social terms. She had a half-sister (or perhaps first cousin) named Fabia, who as a child had become a Vestal Virgin, a very great honour. Terentia was a strong willed woman and (citing Plutarch) "she took more interest in her husband's political career than she allowed him to take in household affairs."[30]
In the 50s BC, Cicero's letters to Terentia became shorter and colder. He complained to his friends that Terentia had betrayed him but did not specify in which sense. Perhaps the marriage simply could not outlast the strain of the political upheaval in Rome, Cicero's involvement in it, and various other disputes between the two. The divorce appears to have taken place in 51 BC or shortly before.[31] In 46 or 45 BC,[32] Cicero married a young girl, Publilia, who had been his ward. It is thought that Cicero needed her money, particularly after having to repay the dowry of Terentia, who came from a wealthy family.[33] This marriage did not last long.
Although his marriage to Terentia was one of convenience, it is commonly known that Cicero held great love for his daughter Tullia.[34] When she suddenly became ill in February 45 BC and died after having seemingly recovered from giving birth to a son in January, Cicero was stunned. "I have lost the one thing that bound me to life" he wrote to Atticus.[35] Atticus told him to come for a visit during the first weeks of his bereavement, so that he could comfort him when his pain was at its greatest. In Atticus's large library, Cicero read everything that the Greek philosophers had written about overcoming grief, "but my sorrow defeats all consolation."[36] Caesar and Brutus as well as Servius Sulpicius Rufus sent him letters of condolence.[37][38]
Cicero hoped that his son Marcus would become a philosopher like him, but Marcus himself wished for a military career. He joined the army of Pompey in 49 BC and after Pompey's defeat at Pharsalus 48 BC, he was pardoned by Caesar. Cicero sent him to Athens to study as a disciple of the peripatetic philosopher Kratippos in 48 BC, but he used this absence from "his father's vigilant eye" to "eat, drink and be merry."[39] After Cicero's murder he joined the army of the Liberatores but was later pardoned by Augustus. Augustus' bad conscience for not having objected to Cicero's being put on the proscription list during the Second Triumvirate led him to aid considerably Marcus Minor's career. He became an augur, and was nominated consul in 30 BC together with Augustus. As such, he was responsible for revoking the honors of Mark Antony, who was responsible for the proscription, and could in this way take revenge. Later he was appointed proconsul of Syria and the province of Asia.
Categories
Classical Greco-Roman
Law & Government
Philosophy
Authors
Marcus Tullius Cicero Ognibene, da Lonigo Francesco Maturanzio Pietro Marso Mario Nizzoli
Printing Date
16th Century