1682 1ed Academy of Science & Art Bullart 117 EXQUISITE Engraved Portraits FOLIO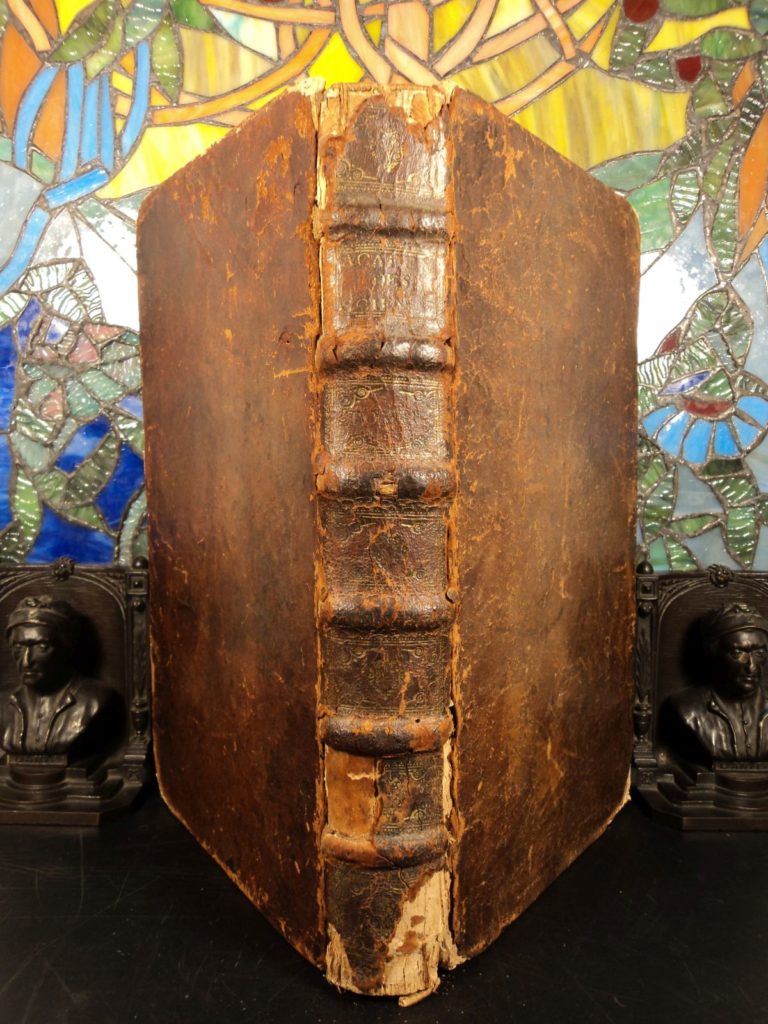 $1,950.00
In stock
Free shipping wordwide!
---
Satisfaction Guaranteed
We find this title in 2v selling for upward of $6,000
$1,950.00
In stock
Free shipping wordwide!
---
Satisfaction Guaranteed
Image Gallery
Description & Details
1682 1ed Academy of Science & Art Bullart 117 EXQUISITE Engraved Portraits FOLIO
ALL the Famous Persons of the era compare@$6,000
We find this title in 2v selling for upward of $6,000
Main author: Isaac Bullart; Jaques Theodore de Brias, Archeveque et Duc de Cambray; Jacques Ignace Bullart; Guilielmus Riverius
Title: Academie des Sciences et des Arts, contenant les vies, & les eloges historiques des hommes illustres, qui ont excellé en ces professions depuis environ quatre siécles parmy diverses nations de l'Europe: avec leurs pourtraits tirez sur les originaux au naturel, & plusieurs inscriptions funebres … recueïllies de leurs tombeaux, etc.
Published: Amsterdam, D. Elzevier, 1682.
Language: French
Notes & Contents:
1st edition

Very rare Amsterdam printing; published in Paris and Brussels in the same year.

117 incredible portraits of cardinals, historians, jurists, philosophers, Italian painters, sculptors, architects, and illustrators.
Portraits include:

Book 1. Distinguished politiques. G.Albornoz, Cardinal; Bessarione, Cardinal; Georges d'Amboise, Cardinal; Francis Ximenes, Cardinal; Guillaume de Croy; Jean de Selve; Thomas Wolsey, Cardinal; Thomas More; Renaud Pole, Cardinal; Michel de l'Hospital; Stanislas Hosius, Cardinal; Guy de Faur Pybrac; A. Perrenot, Cardinal; Auger Rubesque; Aranud d'Ossat, Cardinal; Jean Zamoski; JA de Thou; Jean de Barnevelt; Armand Jean Du Plessis, Cardinal; J. Mazarin, Cardinal
Book 2. Distinguished historians. Regino abbé de Prumy; Jean Froissard; Enguerrand de Monstrelet; J.-B. Platina; Olivier de La Marche; Robert Gaguin; Philippe de Commines; Pandolphe Collenuce; Jean Aventin; François Guicciardin; Paul Jove; Wolfgang Lazius; Onuphre Panuinius; Hubert Goltzius; Bertrand d'Argentré; Jacques Amiot; Fulve Ursin; Pontus Heuterus; Florimond de Rémond; Caesar Baronius Cardinal.
Book 3. Distinguished jurisconsultes. A. de Tartagnis; Jason Mainus; Philippe Dece; André Alciat; André Tiraqueau; Gabriel Mudée; Charles Du Moulin; François Bauduin; Viglius de Zuichem; Tibere Decian; A. Augustin; Matthieu Wesembec; Pierre Peckius; Jacques Cujas; Jean Wamese; Pierre Pithou; Boece Epo; Antoine Le Febvre.
Book 4. Distinguished rethoriciens and grammairiens. Jean Bocace; Emanuel Ghrysoloras; Jean Argyropile; François Philelphe; Théodore Gaza; Rudolphe Agricola; Ange Politian;  Demetrius Chalcondyles;  Jean Lascaris; Nicolas Clenard; Jean Pierius Valerianus; Jeanne Gray de Suffolck; Pierre Nannius; Guillaume Postel; François Raphelenge;  Jean Passerat.
Book 5. Painters, architects, and famous statues from Italy. Cimabue Jean; Andre Tafie; Arnoud Lappo; Giotto; Simon Memmi; Taddee Gaddi; Donato; Andrew Organa; Massacio; Philippe Bruneleschi; Anthony Messina; Andre Verrochio; Frere-Filippo Lippi; Giorgione de Castel-Franco; Antoine de Correggio; Bramante of Urbino; Sandro Boticelli; Andrea Mantegna; Filippo Lippi; Raphael Sanzio of Urbino; André del Sarto; Leonard de Vinci; JF Rustici; Balthazar Perus; Propertia de Rossi; François Mazzuoli; The Rosso; Jean Antoine Livinio Pordenone; Polidor Caravaggio; Jules-Romain; Perin del Vaga; Dominique Beccafumi; Baccio Bandinelli; Michelangelo Buenarotte; Daniel Riccialelli; Titian Ucello; François Primaticcio; Jacques Barozzi Vignola.

Ex libris: Jacob Manzoni "Ex Libris Jacob Manzoni"' with his coat of arms. Manzoni was a bibliophile, scion of an aristocratic family of Milan. He died in 1889
FREE SHIPPING WORLDWIDE
Wear: wear as seen in photos
Binding: tight and secure leather binding
Pages: complete with all 421 pages; plus indexes, prefaces and such
Publisher: Amsterdam, D. Elzevier, 1682.
Size: ~13in X 8.5in (33cm x 21.5cm)
FREE SHIPPING WORLDWIDE
Shipping:
Very Fast. Very Safe. Free Shipping Worldwide.
Satisfaction Guarantee:
Customer satisfaction is our priority. Notify us within 7 days of receiving your item and we will offer a full refund guarantee without reservation.
$1950
Categories
Philosophy
Arts & Architecture
Mathematics & Physics
Medicine & Science
Authors
Isaac Bullart Guilielmus Riverius Jacques Ignace Bullart Archeveque et Duc de Cambray Jaques Theodore de Brias
Printing Date
17th Century