1881 Operas of Gilbert & Sullivan HMS Pinafore Trial by Jury Pirates of Penzance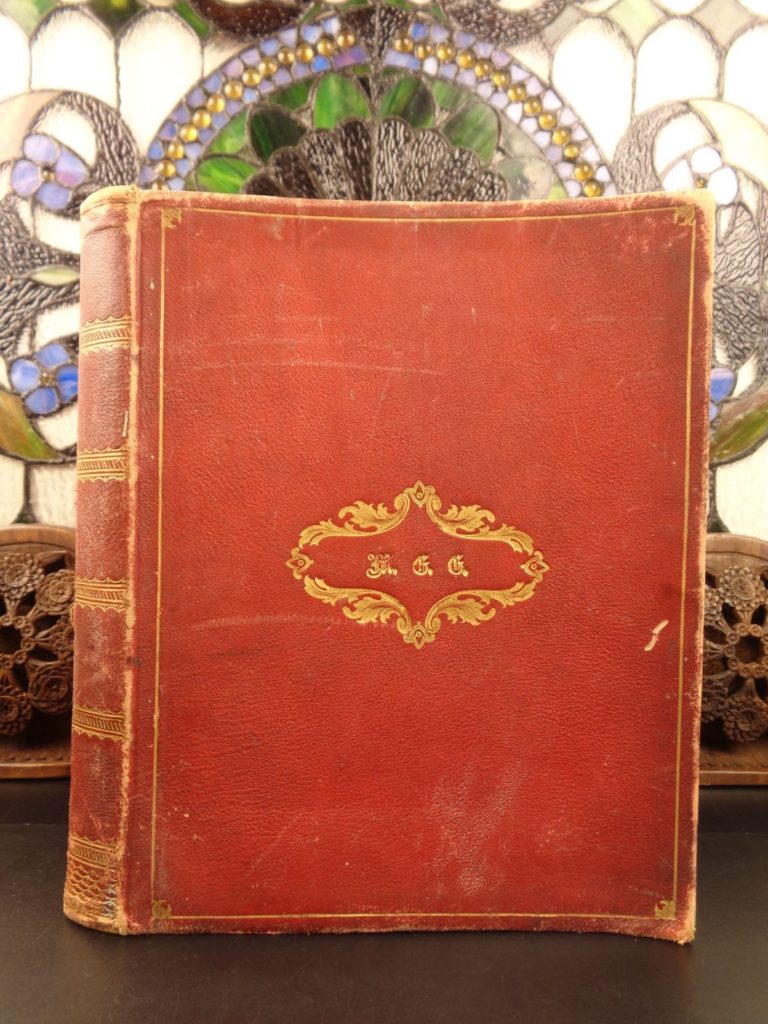 $299.00
In stock
Free shipping wordwide!
---
Satisfaction Guaranteed
A collection of four famous operas from the famed theatrical composers, WS Gilbert and Arthur Sullivan.
Gilbert and Sullivan refers to the Victorian-era theatrical partnership of the librettist W. S. Gilbert (1836–1911) and the composer Arthur Sullivan (1842–1900) and to the works they jointly created. The two men collaborated on fourteen comic operas between 1871 and 1896, of which H.M.S. Pinafore, The Pirates of Penzance and The Mikado are among the best known.
We do not find any other examples of this same book for sale elsewhere.
$299.00
In stock
Free shipping wordwide!
---
Satisfaction Guaranteed
Image Gallery
Description & Details
1881 Operas of Gilbert & Sullivan HMS Pinafore Trial by Jury Pirates of Penzance
A collection of four famous operas from the famed theatrical composers, WS Gilbert and Arthur Sullivan.
Gilbert and Sullivan refers to the Victorian-era theatrical partnership of the librettist W. S. Gilbert (1836–1911) and the composer Arthur Sullivan (1842–1900) and to the works they jointly created. The two men collaborated on fourteen comic operas between 1871 and 1896, of which H.M.S. Pinafore, The Pirates of Penzance and The Mikado are among the best known.
We do not find any other examples of this same book for sale elsewhere.
Main author: W. S. Gilbert; Arthur Sullivan
Title: Operas of Gilbert and Sullivan…
Published: London: Metzler, Chappell & Co., [ca. 1881]
Language: English
Notes & contents:
1st edition
4 famous operas

M.S. Pinafore or The Lass that Loved a Sailor
The Pirates of Penzance or The Slave of Duty
Tiral by Jury
Patience; or Bunthorne's Bride

Piano reductions and choral parts
Each title is stamped with the Arthur Sullivan signature stamp
FREE SHIPPING WORLDWIDE
Wear: wear as seen in photos
Binding: tight and secure leather binding
Pages: complete with all 105 + 135 + (vi + 53) + 117 pages; plus indexes, prefaces, and such
Publisher: London: Metzler, Chappell & Co., [ca. 1881]
Size: ~10.75in X 8.5in (27cm x 21.5cm)
FREE SHIPPING WORLDWIDE
Shipping:
Very Fast. Very Safe. Free Shipping Worldwide.
Satisfaction Guarantee:
Customer satisfaction is our priority. Notify us within 7 days of receiving your item and we will offer a full refund guarantee without reservation.
$299
#6821
Gilbert and Sullivan refers to the Victorian-era theatrical partnership of the librettist W. S. Gilbert (1836–1911) and the composer Arthur Sullivan (1842–1900) and to the works they jointly created. The two men collaborated on fourteen comic operas between 1871 and 1896, of which H.M.S. Pinafore, The Pirates of Penzance and The Mikado are among the best known.[1]
Gilbert, who wrote the words, created fanciful "topsy-turvy" worlds for these operas where each absurdity is taken to its logical conclusion—fairies rub elbows with British lords, flirting is a capital offence, gondoliers ascend to the monarchy, and pirates emerge as noblemen who have gone astray.[2] Sullivan, six years Gilbert's junior, composed the music, contributing memorable melodies[3] that could convey both humour and pathos.[4]
Their operas have enjoyed broad and enduring international success and are still performed frequently throughout the English-speaking world.[5][6] Gilbert and Sullivan introduced innovations in content and form that directly influenced the development of musical theatre through the 20th century.[7] The operas have also influenced political discourse, literature, film and television and have been widely parodied and pastiched by humorists. Producer Richard D'Oyly Carte brought Gilbert and Sullivan together and nurtured their collaboration.[8] He built the Savoy Theatre in 1881 to present their joint works (which came to be known as the Savoy Operas) and founded the D'Oyly Carte Opera Company, which performed and promoted Gilbert and Sullivan's works for over a century.
Contents  [hide]
1              Beginnings
1.1          Gilbert before Sullivan
1.2          Sullivan before Gilbert
2              Operas
2.1          First collaborations
2.1.1       Thespis
2.1.2       Trial by Jury
2.2          Early successes
2.2.1       The Sorcerer
2.2.2       H.M.S. Pinafore
2.2.3       The Pirates of Penzance
2.3          Savoy Theatre opens
2.3.1       Patience
2.3.2       Iolanthe
2.3.3       Princess Ida
2.4          Dodging the magic lozenge
2.4.1       The Mikado
2.4.2       Ruddigore
2.4.3       The Yeomen of the Guard
2.4.4       The Gondoliers
2.5          Carpet quarrel
2.6          Last works
3              Legacy and assessment
3.1          Cultural influence
4              Collaborations
4.1          Major works and original London runs
4.2          Parlour ballads
4.3          Overtures
5              Alternative versions
5.1          Translations
5.2          Ballets
5.3          Adaptations
6              See also
7              Notes
8              References
9              Further reading
10           External links
Beginnings[edit]
Gilbert before Sullivan[edit]
One of Gilbert's illustrations for his Bab Ballad "Gentle Alice Brown"
Main article: W. S. Gilbert
Gilbert was born in London on 18 November 1836. His father, William, was a naval surgeon who later wrote novels and short stories, some of which included illustrations by his son.[9] In 1861, to supplement his income, the younger Gilbert began writing illustrated stories, poems and articles of his own, many of which would later be mined as inspiration for his plays and operas, particularly Gilbert's series of illustrated poems, the Bab Ballads.[10]
In the Bab Ballads and his early plays, Gilbert developed a unique "topsy-turvy" style in which humour was derived by setting up a ridiculous premise and working out its logical consequences, however absurd. Director and playwright Mike Leigh described the "Gilbertian" style as follows:
With great fluidity and freedom, [Gilbert] continually challenges our natural expectations. First, within the framework of the story, he makes bizarre things happen, and turns the world on its head. Thus the Learned Judge marries the Plaintiff, the soldiers metamorphose into aesthetes, and so on, and nearly every opera is resolved by a deft moving of the goalposts… His genius is to fuse opposites with an imperceptible sleight of hand, to blend the surreal with the real, and the caricature with the natural. In other words, to tell a perfectly outrageous story in a completely deadpan way.[2]
Gilbert developed his innovative theories on the art of stage direction, following theatrical reformer Tom Robertson.[9] At the time Gilbert began writing, theatre in Britain was in disrepute.[11] Gilbert helped to reform and elevate the respectability of the theatre, especially beginning with his six short family-friendly comic operas, or "entertainments", for Thomas German Reed.[12]
Ages Ago, during the rehearsals for which Frederic Clay introduced Gilbert to Sullivan
At a rehearsal for one of these entertainments, Ages Ago (1869), the composer Frederic Clay introduced Gilbert to his friend, the young composer Arthur Sullivan.[13][14] Two years later, Gilbert and Sullivan would write their first work together. Those two intervening years continued to shape Gilbert's theatrical style. He continued to write humorous verse, stories and plays, including the comic operas Our Island Home (1870) and A Sensation Novel (1871), and the blank verse comedies The Princess (1870), The Palace of Truth (1870), and Pygmalion and Galatea (1871).
Sullivan before Gilbert[edit]
Main article: Arthur Sullivan
Sullivan was born in London on 13 May 1842. His father was a military bandmaster, and by the time Arthur had reached the age of eight, he was proficient with all the instruments in the band. In school he began to compose anthems and songs. In 1856, he received the first Mendelssohn Scholarship and studied at the Royal Academy of Music and then at Leipzig, where he also took up conducting. His graduation piece, completed in 1861, was a suite of incidental music to Shakespeare's The Tempest. Revised and expanded, it was performed at the Crystal Palace in 1862 and was an immediate sensation. He began building a reputation as England's most promising young composer, composing a symphony, a concerto, and several overtures, among them the Overture di Ballo, in 1870.[15]
The Crystal Palace, where several early Sullivan works premiered
His early major works for the voice included The Masque at Kenilworth (1864); an oratorio, The Prodigal Son (1869); and a dramatic cantata, On Shore and Sea (1871). He composed a ballet, L'Île Enchantée (1864) and incidental music for a number of Shakespeare plays. Other early pieces that were praised were his Symphony in E, Concerto for Cello and Orchestra, and Overture in C (In Memoriam) (all three of which premiered in 1866).[16] These commissions, however, were not sufficient to keep Sullivan afloat. He worked as a church organist and composed numerous hymns, popular songs, and parlour ballads.[17]
Sullivan's first foray into comic opera was Cox and Box (1866), written with librettist F. C. Burnand for an informal gathering of friends. Public performance followed, with W. S. Gilbert (then writing dramatic criticism for the magazine Fun) saying that Sullivan's score "is, in many places, of too high a class for the grotesquely absurd plot to which it is wedded."[18] Nonetheless, it proved highly successful, and is still regularly performed today. Sullivan and Burnand's second opera, The Contrabandista (1867) was not as successful.
Operas[edit]
First collaborations[edit]
Thespis[edit]
Main article: Thespis (opera)
A contemporary illustration of Thespis from The Illustrated London News of 6 January 1872
In 1871, producer John Hollingshead brought Gilbert and Sullivan together to produce a Christmas entertainment, Thespis, at his Gaiety Theatre, a large West End house. The piece was an extravaganza in which the classical Greek gods, grown elderly, are temporarily replaced by a troupe of 19th-century actors and actresses, one of whom is the eponymous Thespis, the Greek father of the drama. Its mixture of political satire and grand opera parody mimicked Offenbach's Orpheus in the Underworld and La belle Hélène, which (in translation) then dominated the English musical stage.[19][20]
Thespis opened on Boxing Day and ran for 63 performances. It outran five of its nine competitors for the 1871 holiday season, and its run was extended beyond the length of a normal run at the Gaiety,[21] but no one at the time anticipated that this was the beginning of a great collaboration. Unlike the later Gilbert and Sullivan works, it was hastily prepared, and its nature was more risqué, like Gilbert's earlier burlesques, with a broader style of comedy that allowed for improvisation by the actors. Two of the male characters were played by women, whose shapely legs were put on display in a fashion that Gilbert later condemned.[22] The musical score to Thespis was never published and is now lost, except for one song that was published separately, a chorus that was re-used in The Pirates of Penzance, and the Act II ballet music.[19]
Over the next three years, Gilbert and Sullivan did not have occasion to work together again, but each man became more eminent in his field. Gilbert worked with Frederic Clay on Happy Arcadia (1872) and with Alfred Cellier on Topsyturveydom (1874), and wrote The Wicked World (1873) Sweethearts (1874) and several other libretti, farces, extravaganzas, fairy comedies, dramas and adaptations. Sullivan completed his Festival Te Deum (1872); another oratorio, The Light of the World (1873); his only song cycle, The Window; or, The Song of the Wrens (1871); incidental music to The Merry Wives of Windsor (1874); and more songs, parlour ballads, and hymns, including "Onward, Christian Soldiers" (1872). At the same time, the audience for theatre was growing because of the rapidly expanding British population; improvement in education and the standard of living, especially of the middle class; improving public transportation; and installation of street lighting, which made travel home from the theatre safer. The number of pianos manufactured in England doubled between 1870 and 1890 as more people began to play parlour music at home and more theatres and concert halls opened.[23][24]
Trial by Jury[edit]
Main article: Trial by Jury
In 1874, Gilbert wrote a short libretto on commission from producer-conductor Carl Rosa, whose wife would have played the leading role, but her death in childbirth cancelled the project. Not long afterwards, Richard D'Oyly Carte was managing the Royalty Theatre and needed a short opera to be played as an afterpiece to Offenbach's La Périchole. Carte knew about Gilbert's libretto for Rosa and suggested that Sullivan write a score for it. Gilbert read the piece to Sullivan in February 1875, and the composer was delighted with it; Trial by Jury was composed and staged in a matter of weeks.[25]
H. Friston's engraving of the original production of Trial by Jury
The piece is one of Gilbert's humorous spoofs of the law and the legal profession, based on his short experience as a barrister. It concerns a breach of promise of marriage suit. The defendant argues that damages should be slight, since "he is such a very bad lot," while the plaintiff argues that she loves the defendant fervently and seeks "substantial damages." After much argument, the judge resolves the case by marrying the lovely plaintiff himself. With Sullivan's brother, Fred, as the Learned Judge, the opera was a runaway hit, outlasting the run of La Périchole. Provincial tours and productions at other theatres quickly followed.[26]
Fred Sullivan was the prototype for the "patter" (comic) baritone roles in the later operas. F. C. Burnand wrote that he "was one of the most naturally comic little men I ever came across. He, too, was a first-rate practical musician… As he was the most absurd person, so was he the very kindliest…"[27] Fred's creation would serve as a model for the rest of the collaborators' works, and each of them has a crucial comic little man role, as Burnand had put it. The "patter" baritone (or "principal comedian", as these roles later were called) would often assume the leading role in Gilbert and Sullivan's comic operas, and was usually allotted the speedy patter songs.
After the success of Trial by Jury, Gilbert and Sullivan were suddenly in demand to write more operas together. Over the next two years, Richard D'Oyly Carte and Carl Rosa were two of several theatrical managers who negotiated with the team but were unable to come to terms. Carte proposed a revival of Thespis for the 1875 Christmas season, which Gilbert and Sullivan would have revised, but he was unable to obtain financing for the project. In early 1876, Carte requested that Gilbert and Sullivan create another one-act opera on the theme of burglars, but this was never completed.[28]
Early successes[edit]
The Sorcerer[edit]
Main article: The Sorcerer
Carte's real ambition was to develop an English form of light opera that would displace the bawdy burlesques and badly translated French operettas then dominating the London stage. He assembled a syndicate and formed the Comedy Opera Company, with Gilbert and Sullivan commissioned to write a comic opera that would serve as the centrepiece for an evening's entertainment.
An early poster showing scenes from The Sorcerer, Pinafore, and Trial by Jury
Gilbert found a subject in one of his own short stories, "The Elixir of Love," which concerned the complications arising when a love potion is distributed to all the residents of a small village. The leading character was a Cockney businessman who happened to be a sorcerer, a purveyor of blessings (not much called for) and curses (very popular). Gilbert and Sullivan were tireless taskmasters, seeing to it that The Sorcerer opened as a fully polished production, in marked contrast to the under-rehearsed Thespis.[29] While The Sorcerer won critical acclaim, it did not duplicate the success of Trial by Jury. Nevertheless, Carte and his syndicate were sufficiently encouraged to commission another full-length opera from the team.
H.M.S. Pinafore[edit]
Main article: H.M.S. Pinafore
Gilbert and Sullivan scored their first international hit with H.M.S. Pinafore (1878), satirising the rise of unqualified people to positions of authority and poking good-natured fun at the Royal Navy and the English obsession with social status (building on a theme introduced in The Sorcerer, love between members of different social classes). As with many of the Gilbert and Sullivan operas, a surprise twist changes everything dramatically near the end of the story.
Gilbert oversaw the designs of sets and costumes, and he directed the performers on stage.[30] He sought realism in acting, shunned self-conscious interaction with the audience, and insisted on a standard of characterisation where the characters were never aware of their own absurdity.[31] Gilbert insisted that his actors know their words perfectly and obey his stage directions, which was something new to many actors of the day.[31] Sullivan personally oversaw the musical preparation. The result was a new crispness and polish in the English musical theatre.[32][33] As Jessie Bond wrote later:
Our stage discipline was strict and unbending. Gilbert's word was law; he thoroughly worked out in his own mind every bit of action, by-play and grouping, and allowed no deviation from his plan. He… made drawings and took measurements with the minutest care…. He had unlimited fertility of invention in comic business and would allow no gag, no clowning, no departure from his own definite conception. Sullivan's musical conception was equally clear-cut and decided. Every part must be made subservient to the whole, and his sarcasms overwhelmed the transgressor with scorn. "And now, might I trouble you to try over my music," he would say to a singer too anxious to display his or her top notes. But there was nothing to hurt or offend us in this unswerving discipline, we took their good-humoured raillery as our due when we failed in our rendering or overstepped the bounds; and the patience and enthusiasm of that artistic pair so infected all of us that we worked willingly for hours and hours at rehearsals, trying with all our might to realize the conceptions of those two brilliant minds.[34]
H.M.S. Pinafore ran in London for 571 performances,[35] the second longest run of any musical theatre piece in history up to that time (after the operetta Les cloches de Corneville).[36] Hundreds of unauthorised, or "pirated", productions of Pinafore appeared in America.[37] During the run of Pinafore, Richard D'Oyly Carte split up with his former investors. The disgruntled former partners, who had invested in the production with no return, staged a public fracas, sending a group of thugs to seize the scenery during a performance. Stagehands successfully managed to ward off their backstage attackers.[38] This event cleared the way for Carte, Gilbert and Sullivan to form the D'Oyly Carte Opera Company, which then produced all of their succeeding operas.
The libretto of H.M.S. Pinafore relied on stock character types, many of which were familiar from European opera (and some of which grew out of Gilbert's earlier association with the German Reeds): the heroic protagonist (tenor) and his love-interest (soprano); the older woman with a secret or a sharp tongue (contralto); the baffled lyric baritone—the girl's father; and a classic villain (bass-baritone). Gilbert and Sullivan added the element of the comic patter-singing character. With the success of H.M.S. Pinafore, the D'Oyly Carte repertory and production system was cemented, and each opera would make use of these stock character types. Before The Sorcerer, Gilbert had constructed his plays around the established stars of whatever theatre he happened to be writing for, as had been the case with Thespis and Trial by Jury. Building on the team he had assembled for The Sorcerer, Gilbert no longer hired stars; he created them. He and Sullivan selected the performers, writing their operas for ensemble casts rather than individual stars.
The Pirate King
The repertory system ensured that the comic patter character who performed the role of the sorcerer, John Wellington Wells, would become the ruler of the Queen's navy as Sir Joseph Porter in H.M.S. Pinafore, then join the army as Major-General Stanley in The Pirates of Penzance, and so on. Similarly, Mrs. Partlet in The Sorcerer transformed into Little Buttercup in Pinafore, then into Ruth, the piratical maid-of-all-work in Pirates. Relatively unknown performers whom Gilbert and Sullivan engaged early in the collaboration would stay with the company for many years, becoming stars of the Victorian stage. These included George Grossmith, the principal comic; Rutland Barrington, the lyric baritone; Richard Temple, the bass-baritone; and Jessie Bond, the mezzo-soprano soubrette.
The Pirates of Penzance[edit]
Main article: The Pirates of Penzance
The Pirates of Penzance (New Year's Eve, 1879) also poked fun at grand opera conventions, sense of duty, family obligation, the "respectability" of civilisation and the peerage, and the relevance of a liberal education. The story also revisits Pinafore's theme of unqualified people in positions of authority, in the person of the "modern Major-General" who has up-to-date knowledge about everything except the military. The Major-General and his many daughters escape from the tender-hearted Pirates of Penzance, who are all orphans, on the false plea that he is an orphan himself. The pirates learn of the deception and re-capture the Major-General, but when it is revealed that the pirates are all peers, the Major-General bids them: "resume your ranks and legislative duties, and take my daughters, all of whom are beauties!"
The piece premiered first in New York rather than London, in an (unsuccessful) attempt to secure the American copyright,[39] and was another big success with both critics and audiences.[40] Gilbert, Sullivan and Carte tried for many years to control the American performance copyrights over their operas, without success.[41] Nevertheless, Pirates was a hit both in New York, again spawning numerous imitators, and then in London, and it became one of the most frequently performed, translated and parodied Gilbert and Sullivan works, also enjoying successful 1981 Broadway[42] and 1982 West End revivals by Joseph Papp that continue to influence productions of the opera.[43]
In 1880, Sullivan wrote the cantata The Martyr of Antioch, presented at the Leeds Triennial Music Festival, with a libretto modified by Gilbert from an 1822 epic poem by Henry Hart Milman concerning the martyrdom of St. Margaret of Antioch in the 3rd century. Sullivan became the conductor of the Leeds festival beginning in 1880 and conducted the performance. It could be said that Martyr was the 15th opera of the partnership, since the Carl Rosa Opera Company presented the work as an opera in 1898.[44]
Categories
Literature
Arts & Architecture
European History
Authors
W. S. Gilbert; Arthur Sullivan
Printing Date
19th Century